Livonia, MI's Trusted Choice for Landscaping & Hardscaping Services
---
As a local, family-owned business that has been serving Livonia, Michigan since 2001, families choose us to expertly handle all of their landscaping, hardscaping and maintenance needs.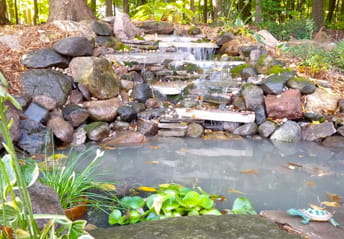 We're full-service landscape and hardscape contractors that specialize in creating stunning, functional and quality outdoor spaces for residents throughout SE Michigan. Before we begin any work, we take numerous proactive steps to ensure the project runs as smooth as possible. With great attention to detail and problem solving, we are able to deal with any sized landscape - nothing is too big or too small for us!
The A-Team specializes in:
Brick Paving
Ponds
Waterfalls
Irrigation
Outdoor Lighting
Concrete
Masonry
Outdoor Living
Decks
Patios
Tree Services
and Complete Landscape Transformations!
A landscape is an investment and it's important to make sure it's properly maintained to ensure it won't deteriorate in any way. Our team provides thorough landscape maintenance services to constantly monitor the irrigation, pests, fertilizers and any landscaping elements that would otherwise stop your landscape from thriving.
We'll Handle the Entire Project from Start to Finish!
This includes drafting designs, coordinating your entire project and having the owner oversee the quality of the work being performed for every job! At A-Team Landscaping, our focus is simplifying and eliminating any hassles for our clients. With the owner present for each project, we're able to oversee every aspect of any landscape or hardscape installation to ensure every construction meets our high standards for quality and craftsmanship.
At the end of the day, we are truly passionate about two things: creating happy, satisfied customers and beautiful landscapes. To schedule a landscape design consultation to discuss your ideas, goals or any questions with an expert, contact us today!