Unique & Functional Hardscape Designs in Livonia, Michigan
---
We're professional hardscape visionaries that are dedicated to making your property the envy of the neighborhood.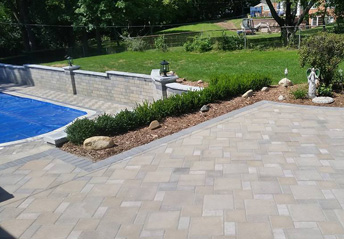 From waterfalls to brick paving and retaining walls, our hardscaping services allow you to maximize aesthetics and functionality. The A-Team offers a variety of materials to handle any of your hardscaping needs. We're backed by years of experience and high-quality equipment to handle even the most complex outdoor constructions.
From Brick Paving to Stone and Concrete Patios – We Handle It All
---
Our team builds backyard patios, stone walkways and waterfalls in just about any style you can imagine! We incorporate natural stone, brick pavers, stamped concrete or whatever your taste and budget call for!
Our hardscapes, patios and water features include:
Walkways and sideways
Retaining walls
Brick patios
Water fountains
Masonry
Concrete
Gazebos
In-ground ponds
Brick grills and fireplaces
Our team takes the time to find the right location for your water features and hardscapes to create the perfect balance for your property.
Add Value, Functionality and Beauty to Your Landscape with Professional Hardscaping
---
We have built stunning hardscapes with unique materials that truly transform any landscape to a work of art. From a lit-up waterfall to a custom brick patio that's paved to perfection – we ensure that you get a beautiful and functional landscape that's stress-free!
Retaining Walls, Steps and Patios of All Shapes and Sizes
---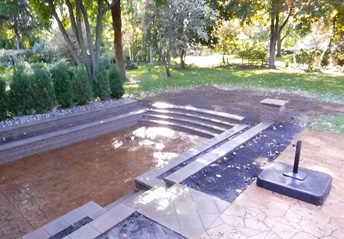 The A-Team builds retaining walls, steps and patios using different design techniques and materials that are perfectly suited for your property. Whether we're using natural stones or one-piece cut stones, we'll create anything that fits your exact style!
Your garden can become a beautiful oasis with a few simple touches like a relaxing water fountain or a patio surrounded by the right plants and trees. Our team takes the time to find the perfect location for any hardscaping or water feature to create the perfect symmetry and an outdoor space you'll love to come home to!
All-Season Care for Your Outdoor Space
---
We understand that your landscape is a large, living investment. Ensuring that your fixtures are properly handled and maintained is the key to the longevity of your landscape. Aside from quality hardscape design and installation, we provide landscape maintenance services for our clients throughout Southeast Michigan to ensure every landscape we touch thrives for years to come.
---
If you're looking for an experienced hardscaping company that truly cares about creating beautiful landscapes and happy customers, contact us today for a free, no-obligation consultation!