Metro Detroit 's Top Landscaping
Landscape Masters For Over 20 Years
A-Team Hardscape's has been providing landscaping and hardscaping services to the Southeast Michigan area for quite some time. We strive to give our customers the best experience possible while delivering a beautiful outcome they will love. Our team has the eye for landscape design. Whatever dream you may have for your outdoor space, leave it to us to be able to transform your yard into your very own oasis.
A-Team Services:
Brick Paving
Ponds
Waterfalls
Irrigation
Outdoor Lighting
& Complete Landscape Transformations!
We are full-service landscape contractors who specialize in creating a functional, high-quality and dazzling spaces for homeowners in the area. Our attention to detail in unlike any other, we have a steps we follow when we tackle any project we have in order for everything to run smoothly and as quickly as possible. From yards big and small - trust the professionals at A-Team Hardscape to get the job done!
---
Landscaping to Improve Your Homes Curb Appeal
Our main goal is to bring your dream landscape to life! Whether you have a brand new home or want to re-design an existing landscape, we are able to handle any kind of project you can think of. Our team has unique ideas to bring to the table to enhance your property even more to make it functional giving you stunning curb appeal. Every great landscape comes from at thought out design.
A-Team Hardscapes Landscaping Services: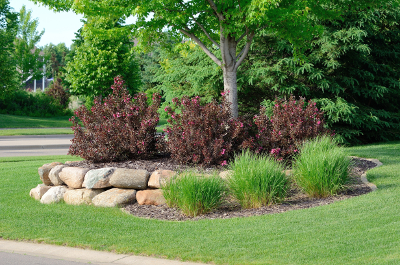 Trees and shrubs
Landscape lighting
Regular landscape maintenance
Sprinkler systems
Irrigation
Maintenance services
Retaining walls
A quality landscape comes from a well thought-out design. Our owner will meet with you to talk about what exactly you are looking for in regards to your outdoor living space. We will establish clear objectives and budget that you'd like to stick to. We then head back to our design team so they can come up with a design that fits your unique needs.
Take A Look At More Of Our Work
---
A-Team Hardscapes Landscape Design Process
1. Property Assessment & Preliminary Measures - We will come to your home and access the property, measuring every inch of space to fully understand what exactly we're working with.
2. Determine Functionality - Once the assessment is complete, we then come up with a functional plan for the new or existing space.
3. Discuss Your Needs - Now the fun part, let us know exactly what you want for your dream landscape. We will fully grasp your taste and what exactly your looking for to be able to come up with a design you will love.
4. Learn Your Budget - Let us know what your budget is for the project. We will strictly follow whatever you want to spend - guaranteed.
5. Design Concept - Our team will discuss everything we've discussed and come up with a design that is tailored to your needs and desires.
6. Finalize the Design - We then come back to you and show you what we came up with. If you want to make any changes, please don't hesitate to discuss what you want to change! We won't start the next step without your approval.
7. Project Installation - Time to get to work! Our team will work as efficiently as possible to make this design come to life right before your eyes!
A-Team Hardscapes has been a master Landscaping provider for many years. We ensure every client a spectacular result when we are finished! Every project will be done to perfection and follow every direction we came up with in the design and installation process.
---
Give your home a facelift - get a hold of the professionals at A-Team Hardscapes to discuss your dream landscape. Our team of landscape contractors are truly passionate about what they do and would love to make your dreams come to life by working with you on your new or existing landscape. Contact us today if you have any questions.